Bitcoin Cash (BCH) now leads crypto rally with 28% pump
After Bitcoin (BTC) surged earlier in the day to just below $5000, a number of other top 10 cryptos followed in its wake with even bigger gains. Bitcoin Cash (BCH) has pumped the most, gaining over 28 percent in price.
Bitcoin Cash (BCH) - $213.02 (27.30%)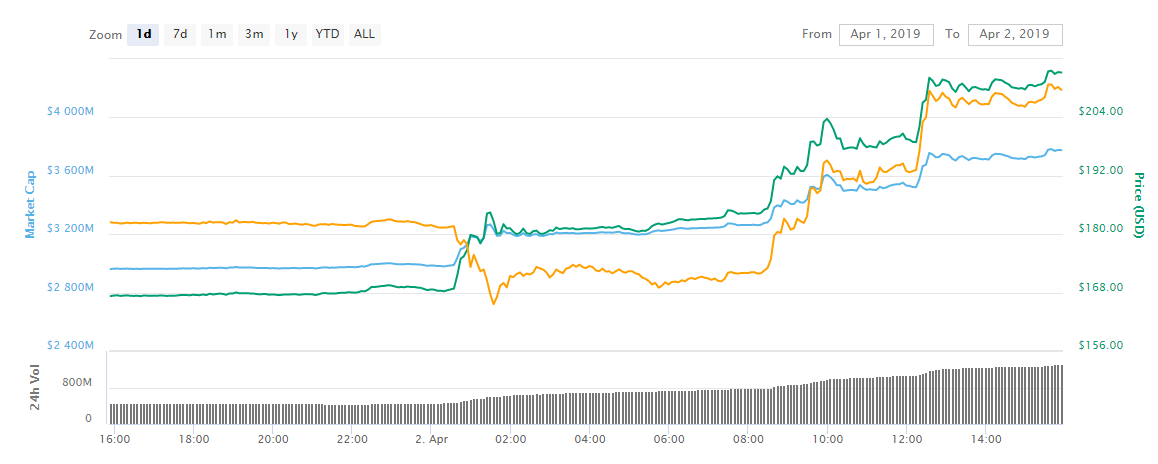 BCH remains as unpopular as ever in the crypto community, but the controversial Bitcoin fork has performed well so far this year, and this latest rally is the best 24 hour period it has seen in 2019. Although Roger Ver has recently highlighted the possibility that BCH is doing better in terms of adoption than BTC in Japan, this latest rally appears to be entirely technical and not based on fundamentals.
Just a few hours ago, Bitcoin Cash (BCH) broke the $200 level for the first time since December 23, 2018, which could be a significant psychological barrier for the market.
Its price is now at its highest point since December 20, when it saw a sudden spike after gradually decreasing for over two months, before then falling off again. Its market cap currently stands at $3.8 billion, which is the highest level it has seen since the end of November.